In May 2015, KrebsOnSecurity briefly profiled "The Manipulaters," the name chosen by a prolific cybercrime group based in Pakistan that was very publicly selling spam tools and a range of services for crafting, hosting and deploying malicious email. Six years later, a review of the social media postings from this group shows they are prospering, while rather poorly hiding their activities behind a software development firm in Lahore that has secretly enabled an entire generation of spammers and scammers.
The Web site in 2015 for the "Manipulaters Team," a group of Pakistani hackers behind the dark web identity "Saim Raza," who sells spam and malware tools and services.
The Manipulaters' core brand in the underground is a shared cybercriminal identity named "Saim Raza," who for the past decade across dozens of cybercrime sites and forums has peddled a popular spamming and phishing service variously called "Fudtools," "Fudpage," "Fudsender," etc.
The common acronym in nearly all of Saim Raza's domains over the years — "FUD" — stands for "Fully Un-Detectable," and it refers to cybercrime resources that will evade detection by security tools like antivirus software or anti-spam appliances.
One of several current Fudtools sites run by The Manipulaters.
The current website for Saim Raza's Fud Tools (above) offers phishing templates or "scam pages" for a variety of popular online sites like Office365 and Dropbox. They also sell "Doc Exploit" products that bundle malicious software with innocuous Microsoft Office documents; "scampage hosting" for phishing sites; a variety of spam blasting tools like HeartSender; and software designed to help spammers route their malicious email through compromised sites, accounts and services in the cloud.
For years leading up to 2015, "admin@manipulaters.com" was the name on the registration records for thousands of scam domains that spoofed some of the world's top banks and brand names, but particularly Apple and Microsoft. When confronted about this, The Manipulaters founder Madih-ullah Riaz replied, "We do not deliberately host or allow any phishing or any other abusive website. Regarding phishing, whenever we receive complaint, we remove the services immediately. Also we are running business since 2006."
The IT network of The Manipulaters, circa 2013. Image: Facebook
Two years later, KrebsOnSecurity received an email from Riaz asking to have his name and that of his business partner removed from the 2015 story, saying it had hurt his company's ability to maintain stable hosting for their stable of domains.
"We run web hosting business and due to your post we got very serious problems especially no data center was accepting us," Riaz wrote in a May 2017 email. "I can see you post on hard time criminals we are not criminals, at least it was not in our knowledge."
Riaz said the problem was his company's billing system erroneously used The Manipulators' name and contact information instead of its clients in WHOIS registration records. That oversight, he said, caused many researchers to erroneously attribute to them activity that was coming from just a few bad customers.
"We work hard to earn money and it is my request, 2 years of my name in your wonderful article is enough punishment and we learned from our mistakes," he concluded.
The Manipulaters have indeed learned a few new tricks, but keeping their underground operations air-gapped from their real-life identities is mercifully not one of them.
Phishing domain names registered to The Manipulaters included an address in Karachi, with the phone number 923218912562. That same phone number is shared in the WHOIS records for 4,000+ domains registered through domainprovider[.]work, a domain controlled by The Manipulaters that appears to be a reseller of another domain name provider.
One of Saim Raza's many ads in the cybercrime underground for his Fudtools service promotes the domain fudpage[.]com, and the WHOIS records for that domain share the same Karachi phone number. Fudpage's WHOIS records list the contact as "admin@apexgrand.com," which is another email address used by The Manipulaters to register domains.


As I noted in 2015, The Manipulaters Team used domain name service (DNS) settings from another blatantly fraudulent service called 'FreshSpamTools[.]eu,' which was offered by a fellow Pakistani who also conveniently sold phishing toolkits targeting a number of big banks.
The WHOIS records for FreshSpamTools briefly list the email address bilal.waddaich@gmail.com, which corresponds to the email address for a Facebook account of a Bilal "Sunny" Ahmad Warraich (a.k.a. Bilal Waddaich).
Bilal Waddaich's current Facebook profile photo includes many current and former employees of We Code Solutions.
Warraich's Facebook profile says he works as an IT support specialist at a software development company in Lahore called We Code Solutions.
The We Code Solutions website.
A review of the hosting records for the company's website wecodesolutions[.]pk show that over the past three years it has shared a server with just a handful of other domains, including:
-saimraza[.]tools
-fud[.]tools
-heartsender[.]net
-fudspampage[.]com
-fudteam[.]com
-autoshopscript[.]com
-wecodebilling[.]com
-antibotspanel[.]com
-sellonline[.]tools
The profile image atop Warraich's Facebook page is a group photo of current and former We Code Solutions employees. Helpfully, many of the faces in that photo have been tagged and associated with their respective Facebook profiles.
For example, the Facebook profile of Burhan Ul Haq, a.k.a. "Burhan Shaxx" says he works in human relations and IT support for We Code Solutions. Scanning through Ul Haq's endless selfies on Facebook, it's impossible to ignore a series of photos featuring various birthday cakes and the words "Fud Co" written in icing on top.
Burhan Ul Haq's photos show many Fud Co-themed cakes the We Code Solutions employees enjoyed on the anniversary of the Manipulaters Team.
Yes, from a review of the Facebook postings of We Code Solutions employees, it appears that for at least the last five years this group has celebrated an anniversary every May with a Fud Co cake, non-alcoholic sparkling wine, and a Fud Co party or group dinner. Let's take a closer look at that delicious cake: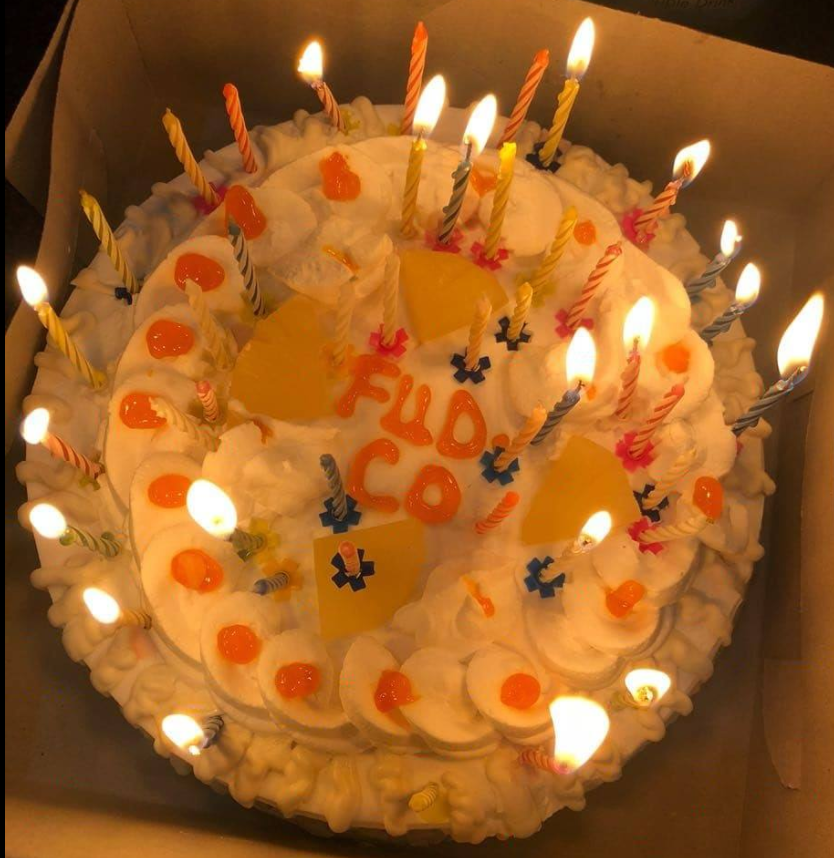 The head of We Code Solutions appears to be a guy named Rameez Shahzad, the older individual at the center of the group photo in Warraich's Facebook profile. You can tell Shahzad is the boss because he is at the center of virtually every group photo he and other We Code Solutions employees posted to their respective Facebook pages.
We Code Solutions boss Rameez Shahzad (in sunglasses) is in the center of this group photo, which was posted by employee Burhan Ul Haq, pictured just to the right of Shahzad.
Shahzad's postings on Facebook are even more revelatory: On Aug. 3, 2018, he posted a screenshot of someone logged into a website under the username Saim Raza — the same identity that's been pimping Fud Co spam tools for close to a decade now.
"After [a] long time, Mailwizz ready," Shahzad wrote as a caption to the photo:
We Code Solutions boss Rameez Shahzad posted on Facebook a screenshot of someone logged into a WordPress site with the username Saim Raza, the same cybercriminal identity that has peddled the FudTools spam empire for more than 10 years.
Whoever controlled the Saim Raza cybercriminal identity had a penchant for re-using the same password ("lovertears") across dozens of Saim Raza email addresses. One of Saim Raza's favorite email address variations was "game.changer@[pick ISP here]". Another email address advertised by Saim Raza was "bluebtcus@gmail.com."
So it was not surprising to see Rameez Shahzad post a screenshot to his Facebook account of his computer desktop, which shows he is logged into a Skype account that begins with the name "game." and a Gmail account beginning with "bluebtc."
Image: Scylla Intel
KrebsOnSecurity attempted to reach We Code Solutions via the contact email address on its website — info@wecodesolutions[.]pk — but the message bounced back, saying there was no such address. Similarly, a call to the Lahore phone number listed on the website produced an automated message saying the number is not in service. None of the We Code Solutions employees contacted directly via email or phone responded to requests for comment.
This open-source research on The Manipulaters and We Code Solutions is damning enough. But the real icing on the Fud Co cake is that sometime in 2019, The Manipulaters failed to renew their core domain name — manipulaters[.]com — the same one tied to so many of the company's past and current business operations.
That domain was quickly scooped up by Scylla Intel, a cyber intelligence firm that specializes in connecting cybercriminals to their real-life identities. Whoops.
Scylla co-founder Sasha Angus said the messages that flooded their inbox once they set up an email server on that domain quickly filled in many of the details they didn't already have about The Manipulaters.
"We know the principals, their actual identities, where they are, where they hang out," Angus said. "I'd say we have several thousand exhibits that we could put into evidence potentially. We have them six ways to Sunday as being the guys behind this Saim Raza spammer identity on the forums."
Angus said he and a fellow researcher briefed U.S. prosecutors in 2019 about their findings on The Manipulaters, and that investigators expressed interest but also seemed overwhelmed by the volume of evidence that would need to be collected and preserved about this group's activities.
"I think one of the things the investigators found challenging about this case was not who did what, but just how much bad stuff they've done over the years," Angus said. "With these guys, you keep going down this rabbit hole that never ends because there's always more, and it's fairly astonishing. They are prolific. If they had halfway decent operational security, they could have been really successful. But thankfully, they don't."
This entry was posted on Monday 6th of September 2021 03:04 PM
The cake bit is downright funny
Its astonishing how much bad guys, even smart enough to code tools or hack stuff, are bad at hiding. I mean, Urls on birthday cake, group photos on Facebook, leaving informations on screenshots, thats a new level of retardness.
Little reason to hide when the odds of any punishment are so low.
+1
One of the more lol-worthy of your recent articles. Thanks for the heads-up (and cheer-up), Brian!
I've been tracking "dolphinadvertisers" from Karachi Pakistan for months now ,Brian do you know any information about that company ?
Brian Krebs…you are bad for business!
Regarding these spammers bros having difficulty finding hosting, they should just trawl the web hosting forums and get the names of shady hosts and cloud servers. There is no shortage. In most markets you would expect consolidation, but in hosting and the cloud, new players arrive all the time. I don't know they can find customers, but I guess they live to bottom scrape for the worst customers.
Most of the spam that gets through to me is from legit Gmail accounts based on the headers. I've simply given up complaining to Google. I don't use Gmail but I am told this spam gets tossed into a spam folder for Gmail customers so Google knows these accounts are spammers. Then there are spammers who only have Gmail accounts to receive replies, so technically they are not Google spammers since they don't send spam from a Google account.
Love your work Brian..
PLEASE MISTER BRIAN TAKE MY NAME OFF THIS ARTICLE BECAUSE YOU ARE CAUSE BAD BUSINESS FOR REPUTATION. WE CAN NOT GET DATA CENTERS FOR OUR F.U.K.D DOMAINS AND HOSTINGS. WE HAVE BEEN BUSINESS FOR MANY YEARS AND NEED OUR FUKD REPUTATION. WE HAVE LEARN OUR MISTAKES AND PROMISE TO DO BUSINESS.
Namak-haram.
Brian, that isn't a WordPress screenshot. That's a screenshot of MailWhizz, like his comment says.
"a WordPress site" Mailwhizz is php 7.2, close enough.
claysender.com seems to be actively updated.
Leaving their usual traces.
Think I remember the registrar, internet.bs, from earlier days.
"Reformed" spammer or something like that.
Some other "interesting" domains on that ip too.
Hi Brian,
Nice job. Hmm… "in business" 6 years!
This certainly does make the case for end to end
encryption and being 'off the web' as much as practical.
John
It would do the whole world justice if they started with nabbing them on one thing and built a stronger case out in the future. Double jeopardy shouldn't fit that. Spending 10 years to bring a case is no better than getting them off the streets NOW, even if it is only for a few years.
Crime is fine but let's keep it halal with the non alcoholic sparkling wine
Irony abounds!
But as it looks like just about every cyber crime unit on the planet will be choked with work for years to come, the baddies don't realy have to worry too much about security and real world ties to evidence, as the chance of anyone doing anything about them is very low..
+ Many folk are lazy, as soon as their income gets to comfortable level, they relax, put jobs off to later etc etc.
More dung from Pakistan, is that all there is over there, or produced in that s***hole?
The country that harbored Osama Bin Laden
cyber crime.. the perfect job for ambitious, lazy people until they get squeezed by the feds, the mafia or get betrayed by one of their own.
They don't have "feds" interested in them in the countries they're operating in.
lol.. "They don't have "feds" interested in them in the countries they're operating in"..
you know why because predator drones are more effective and cost less for overhead.
maybe but predator drones seems more logical a reason. more effective and less costly.
I'm kinda pissed at you for helping to catch these guys … now, I'm never going to get the inheritance they promised me ;o)
In other news, "FUD" doesn't stand for "Fear, Uncertainty and Doubt" any more… 🙂
Excellent story as usual. One suggestion for another possible bit of (admittedly circumstantial) open-source research. If you take a guess at the "birthday boy"'s age by simply counting the candles on the cake, does it match the declared age in the Facebook profiles of any of the people in the picture? Maybe the guy in the center?
Phone companies let spam and scam calls all the time. They have the technology to stop it, but I guess their own profits come first.
They should be charged as an assessory to crime after the fact.
I love this article as it shows how a true ethical hacker can take down entities that our governments are unable to remotely understand. I also think it is a wakeup call as many of these websites appear to be legitimate and there appears to be no readily discernible way to separate the good from the bad.
Have you ever thought about establishing a repository of Known Good providers? A lot of overseas work is stifled by these bad actors and there is no trusted intermediary at this time to help. It would greatly benefit both customers and providers – providers who would need to clearly pay for your team to perform cyber diligence on an annual basis…
Many free and paid services exist to rate the reputation between good and bad websites.
The popular browser extensions block scripts and can block entire websites if they are on blocklists.
About this: "they could have been really successful." I don't know how you define success, but I note they have hauled in mounds of money and have little fear of prosecution. That seems pretty successful.
vb, dont take this personally or do.. you sound like a millennial or younger. Lol, fear of prosecution is the least of their worries now boyo.
Dirty money has a way of attracting bad karma and bad people. Don't believe in karma or blowback.. you will with enough time or you won't and will become just another statistic.
here's a clearer picture for you.. remember the scene from dark knight where the banker say, "you must be stupid, you don't know who your stealing from."
Boyo? Take this personally, that's not a knife. You reference mad movies bruh.
You do not know karate. This is podracing.
There's a social element to this …. when bright young people with few prospects and subsistence-level income are granted access to comparatively wealthy "marks" can you really blame them?
Maybe we need to strive for a more equitable society where these chaps have a shot at developing productive goods and services while being fairly compensated.
"when bright young people with few prospects and subsistence-level income are granted access to comparatively wealthy "marks" can you really blame them?" – Yes. Were the Somali pirates blameless in their actions to attack, detain, and (possibly) hurt seafarers? (Reference: Captain Philipps).
"when bright young people with few prospects and subsistence-level income are granted access to comparatively wealthy "marks" can you really blame them?" – Yes. Were the Somali pirates blameless in their actions to attack, detain, and (possibly) hurt seafarers? (Reference: Captain Philipps).
HBO had a free weekend again huh.
Who took over ICANN? phony registration name/addr/phone was reason to complain, but even blantent abuse was too much for Joe Citizen to act so I didn't bother. Hosting services also played the "privacy" card when malware was involves.
Good PR piece for Krebs, so thank you for sharing the investigation.
And as long as they pay off the right government officials I'm sure they will be able to continue to operate with impunity.
"…The Manipulaters failed to renew their core domain name — manipulaters[.]com — the same one tied to so many of the company's past and current business operations."
Got to love the attention to detail.
Comments are closed.
Mailing List
Search KrebsOnSecurity
Recent Posts
Spam Nation
A New York Times Bestseller!
Thinking of a Cybersecurity Career?
Read this.
All About Skimmers
Click image for my skimmer series.
Story Categories
The Value of a Hacked PC
Badguy uses for your PC
Badguy Uses for Your Email
Your email account may be worth far more than you imagine.
Most Popular Posts
Why So Many Top Hackers Hail from Russia
Category: Web Fraud 2.0
Innovations from the Underground
ID Protection Services Examined
Is Antivirus Dead?
The reasons for its decline
The Growing Tax Fraud Menace
File 'em Before the Bad Guys Can
Inside a Carding Shop
A crash course in carding.
Beware Social Security Fraud
Sign up, or Be Signed Up!
How Was Your Card Stolen?
Finding out is not so easy.
Krebs's 3 Rules…
…For Online Safety.